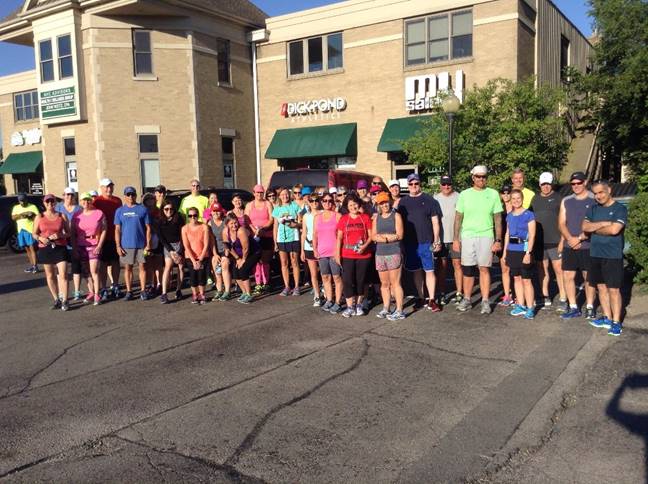 Is doing a half marathon on your bucket list, but you've been too afraid to try?
Have you tried to run a half marathon on your own, only to crash before the finish?
Have you run many half marathons, yet your time or comfort goals are never met?
Join us on 2/12 @7pm for the KICK OFF info meeting/sign up for the 2nd annual FVFFH training program for the Fox Valley Half Marathon (9-16-18) at Dick Ponds in St. Charles. Learn how this training program will not only promote healing in our community through healthy meals, but help YOU reach your running goals!
Established in 2012 by area residents Susan Leigh and Mary Fremgen, Fox Valley Food for Health (FVFFH) is a network of adult and teen volunteers who lovingly prepare and deliver weekly nutritious meals to cancer victims and their families. "How did you know I needed your love, support and help to keep me alive!" (Maureen, former FVFFH recipient). To date, over 34,000 meals have been delivered to nearly 200 individuals, just like Maureen, in the tri-city area. The program runs completely on donations from the community and is free of charge to those it serves.
Sign up to enjoy these 2018 Food for Health half marathon training perks!:
*Discount on race entry for the fox valley half marathon
*Free professionally coached training program for the beginning to advanced runner
*Organized, supported group runs on Saturdays
*Lots of training options: Run, walk, run/walk training schedules
*Technical race shirt
*10 percent discount on ALL merchandise at Dick Ponds Athletic stores
*Mid training FVFFH Team brunch
*Free massage after our longest runs
*Free cooking class and athlete nutrition* tips from Food for Health Executive Chef Molly
*Certified RUN Pilates classes in the park
*Weekly group run options at Dick ponds
*Low $150.00 fundraising minimum
Come to the meeting on 2/12 and find out more! Can't make the meeting? Email coach Shelley Simmering @ssimmering@sbcglobal.net. Want to learn more about Food for Health? Email Executive Director Susan Leigh @sleigh1492@mac.com.