The Founding of our Program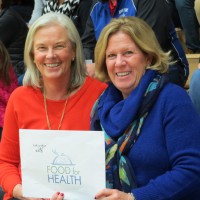 It's the summer of 2010, Mary Fremgen and Susan Leigh had spent the previous year volunteering at the Living Well Cancer Resource Center, cooking together in the Culinary Comforts program. The two shared a love for good food, an understanding of the positive impact of nutrition on health and a passion for seeing families share healthy meals together. Sitting with their husbands over an evening meal, they contemplated a trip to Northern California to participate in a week-long training program with Ceres Community Project. The training would prepare them to launch Fox Valley Food for Health (FVFFH), a program which would teach teens to cook healthy, nutritious meals. Adults would then deliver those meals free of charge to local families going through treatment for serious illness, such as cancer. The decision to attend the training program was "yes". Thus the plan was launched. After little more than one year in existence FVFFH became a wonderful success.
The two women arrived at this point of their partnership via very different paths. Susan came from a corporate background, having spent more than 20 years in sales/marketing in Canada. When she came to the U.S. in 2007 with her husband, she got involved in starting a community garden in Clarkston, Michigan. This project was the result of her efforts in a Master Gardener program offered by Michigan State. That year she also attended a leadership development program where she met the founder of Ceres Community Project, a program that eventually provided the blueprint for FVFFH. In 2009, she completed a three-month cooking certificate program on a 100-acre organic farm at Ballymaloe, Ireland. In the meantime both Susan and her husband reflected upon the anguish they felt as their families suffered the personal loss of loved ones dealing with cancer. These feelings provided continued emotional fuel to move the ideas and program concept forward one step at a time. When she moved to the Chicago area in September 2009, momentum built to start a program like Ceres. Her next-door neighbor was diagnosed with breast cancer in 2010. Subsequent introduction to the programs at Living Well, and the opportunity to apply her cooking skills and passion as a volunteer, started the wheels in motion for FVFFH.
Mary started her career as a registered dietitian at Lake Forest Hospital in Oncology at a time when research in nutrition was progressing slowly. Little was understood about the positive impact of good nutrition in relation to cancer treatment tolerance and recovery. When her father was diagnosed with colon cancer, the research had just begun showing a relationship between diet and colon cancer incidence. Her training as a registered dietitian continued to highlight opportunities for affecting change. In 1985 she and her husband Mike, a family practice doctor, moved to the Fox Valley area where Mary worked in public health nutrition, private practice and community health at Delnor Hospital. During that time, she learned that education was the key to better nutrition in the fight against chronic illness. In 2007 her father was diagnosed with a rare sarcoma, which then resulted in more than a year of surgeries, treatments and experiences with the difficult challenges of family caregiving. She spent much of her time struggling with the family devastation.
What was the message to be learned and what could be done to help people in a similar situation? She began volunteering and eventually directed the nutrition-cooking program at Living Well Cancer Resource in Geneva. There she met Susan Leigh.
Through the years of learning the struggles of clients and caregivers, and teaching cooking skills to cancer patients, Mary realized there was more that could be done. Creating a program to support the clients, as well as families and friends of people struggling with serious illness was a cause with which many could identify and willingly support.
As a result of their experience at the Ceres Community Project training, both Mary and Susan understood that there was a clear path to make positive change. It would be through awareness, support, education, community compassion and helping families to actually experience change– by providing nourishing meals and education. The need for this kind of program in the community was more than obvious.
Once they returned from the training at Ceres, the ball got rolling. While they were getting the organizational structure and legal documents set, the two of them started to build a volunteer base and scout possible locations. Mary leveraged her deep roots in the community to tap into an energetic group of volunteers. Susan evaluated numerous kitchens, eventually connecting with Dominique and Sylvie Baumann. Dominique is the current CEO at Roquette America. With the full support of their corporate offices in France, Roquette University in Geneva is hosting FVFFH in their demonstration kitchen two days each week. After a 6-week pilot in November/December 2012, FVFFH launched in full in January 2013. As we enter our 9th year, thousands of volunteer hours have been logged and over 80,000 meals have been delivered to families in the community.
This story has just begun to be told. It is based on people who care about making an impact in our community and recognition that we have so much we can give as we help each other in life. Already lives have been changed. Teens have new skills and an appreciation of "giving back" to those in need. Adults have found new ways to contribute their own unique skills and connect with others in a worthy cause. Recipients have been nourished and have noticed the positive impact of organic, nutrient-rich foods. Everyone has seen an opportunity to battle this scourge of a disease that affects so many of us.